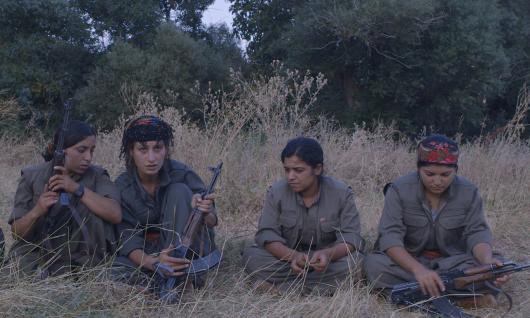 Gulîstan, terre de roses (2016)
Réal.: Zaynê Akyol
Production : Péripheria, Mitosfilms, NFB
Festivals : RIDM 2016 | Hot Docs 2016 | Visions du Réel 2016
Prix : Doc Alliance Award (Locarno IFF 2016)
An intimate portrait of women in revolution ... filmmaker Zaynê Akyol's poetic portrait is set in the rugged mountains and deserts of Kurdistan where her lens takes us deep inside a brigade of female Kurdish guerrillas fighting Islamic State. It's a far cry from current affairs media reporting filled with bombings and blood – it is a quieter, more reflective insight into the reality of a world we can scarcely imagine. As much as it is about warfare the lm is a powerful statement about gender. Fierce and proud, these women instill fear in their enemy, not only for their bravery and skill, but also because, for ISIS soldiers, dying at the hands of a woman means they'll never reach heaven. In turn, the women live in fear of being taken as spoils of war, believing that "every woman left to the mercy of man is condemned to slavery."
Doc Circuit Montréal : Face-à-face (2013)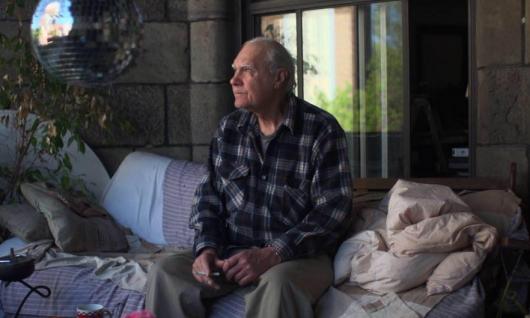 HISTOIRE HIPPIE (2016)
Réal.: Jean-André Fourestier
Production : InformAction Films
Festival : RIDM+ 2016
Diffusion : Super Channel
Martin Stone a choisi la liberté : en 1966, il a pris la route pendant six ans avec ses filles Deborah et Jacqueline au sein de la plus grande communauté hippie d'Amérique du Nord : la Hog Farm. Aujourd'hui, tous les trois se sont construits des vies singulières. Martin n'a jamais renié ses choix. Il vit toujours en communauté dans le même appartement vétuste, au cœur du Mile End, à Montréal. Plus qu'une mode, le mouvement hippie s'est avéré sa raison d'être. Désormais installées à Philadelphie, Debbie et Jacquie vivent leur vie dans un cadre plus classique. Chacun semble répondre à l'autre en jetant un regard honnête sur sa vie, ses espoirs et ses désillusions. Un film sur les choix de vie et leur impact sur ceux qui nous entourent.
Doc Circuit Montréal : Face-à-face de la relève 2012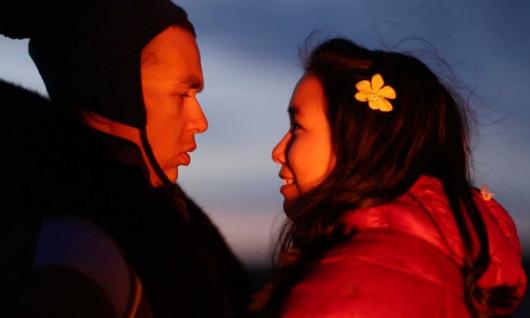 Chez les géants (2016)
Réal.: Sébastien Rist & Aude Leroux-Lévesque
Production : MC2 Communication Média
Festival : Hot Docs 2016, RIDM 2016
Prix : Emerging Canadian Filmmaker Award (Hot Docs 2016)
Living with Giants delves into the imaginative world of Paulusie Kasudluak, a young Inuk facing responsibilities and transitions into adulthood. His thoughts, dreams and beliefs allow for a very intimate immersion into his life. The film follows Paulusie as he tries to make sense of a complex world where fantastic legends and harsh realities coexist. What begins as the story of an innocent and charismatic teenager quickly becomes the struggle of a young man coping with the guilt of having committed a huge mistake.
Doc Circuit Montréal : Cuban Hat Pitch | Face-à-face (2014)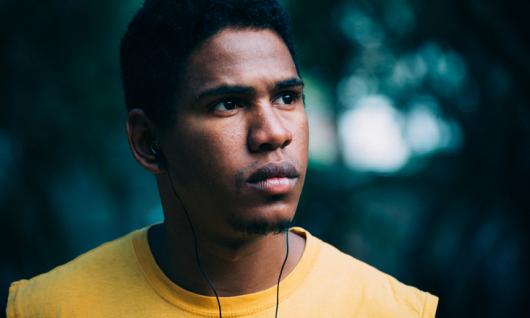 La Soledad (2016)
Réal.: Jorge Thielen Armand
Production : La Faena Films
Festival : Biennale College - Cinema | 73. Venice Int. Film Festival 2016
Already struggling to survive in the urban jungle of Caracas, José discovers that the decrepit mansion he squats in will soon be demolished. Hoping to save his family from homelessness, he embarks on a mystical search for an enormous cache of gold that is rumoured to be buried in the house. This film is based on a true story and played by the real characters.

Doc Circuit Montréal : Talent Lab (2014 & 2015) | Face-à-face (2015)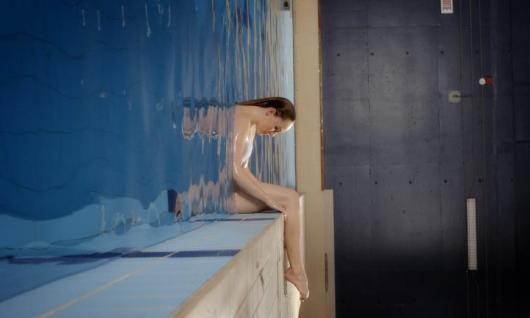 Parfaites (2016)
Réal.: Jérémie Battaglia
Production : Les Productions du Rapide-Blanc
Diffusion : CBC | ICI Radio-Canada (2016)

Parfaites suit le parcours de l'équipe nationale canadienne de nage synchronisée, alors que les athlètes tentent de se qualifier pour les Jeux olympiques de Rio en 2016. Sport méconnu et injustement méprisé, la nage synchronisée souffre de sa réputation de « sport de filles ». Pourtant, la réalité de ces athlètes est bien différente des paillettes et des sourires affichés pendant les compétitions internationales : elles doivent exceller dans de nombreuses disciplines sportives et répondre à des critères de beautés exigeants. Face à un système de pointage mal-adapté à la réalité de la nage synchronisée moderne, elles n'auront pas d'autre choix que de sortir des sentiers battus pour tenter le tout pour le tout et concrétiser leur rêve olympique. Grâce à un accès unique et exclusif, le réalisateur suit l'équipe et leur charismatique entraineure-chef dans leur quête de perfection. Au fil des mois et des compétitions à travers le monde, il nous propose un parcours émouvant, à la beauté envoutante, révélateur des contradictions d'un sport atypique, dont les exigences athlétiques et humaines dépassent les limites de l'imaginable.
Doc Circuit Montréal : Face-à-face de la relève (2012)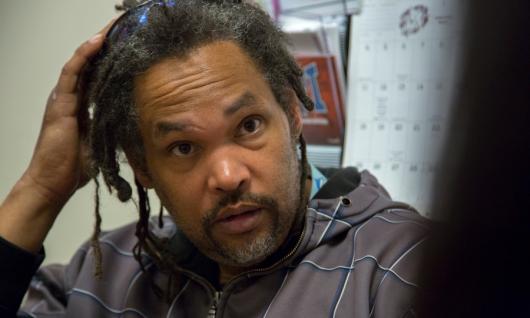 The Stairs (2016)
Réal. : Hugh Gibson
Production : Midnight Lamp Films
Festival : TIFF 2016, RIDM 2016
In the embattled community of Regent Park, extraordinary people struggle to keep themselves and others safe. Shot over the course of several years, Hugh Gibson's profoundly affecting and compassionate documentary examines the lives of habitual drug users in Toronto's Regent Park.
Doc Circuit Montréal : Talent Lab 2015 | Face-à-face 2015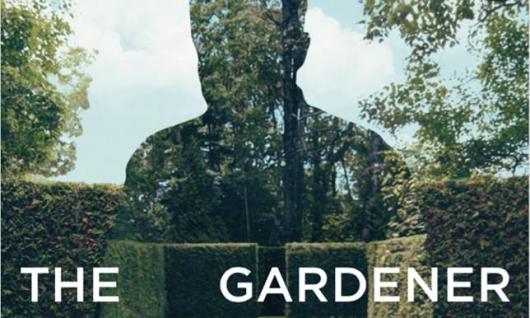 LE JARDINIER (2016)
Réal.: Sébastien Chabot
Production : Films Reflektor
Festival : FCVQ 2016
Prix : Prix du public, long métrage canadien (FCVQ 2016)
Diffusion : Radio-Canada, CBC

Le jardinier est un documentaire réfléchissant sur le sens du jardinage et de ses impacts sur nos vies.

Peu de temps avant son décès à l'âge de 86 ans, Frank Cabot, jardinier, horticulteur et philanthrope influent raconte à travers une longue entrevue sa quête personnelle de la perfection par la création de ses jardins Les Quatre Vents. Étendus sur plus de 8 hectares, ses jardins de style anglais ouvrent leur porte pour la première fois à une équipe de tournage pour ce rendez-vous hors du commun. Se sachant atteint d'une maladie pulmonaire dégénérative et avec peu de temps à vivre, il se confie à notre caméra.

Niché au sommet de Mont Murray dans la région de Charlevoix au Québec, Les Quatre Vents sont devenus sous l'impulsion de Frank Cabot l'un des plus beau jardin privé du monde. Créés sur trois générations, ils sont un lieu enchanté de beauté et de surprise, un chef-d'œuvre horticole du 21ème siècle.
Doc Circuit Montréal : Face-à-face (2015)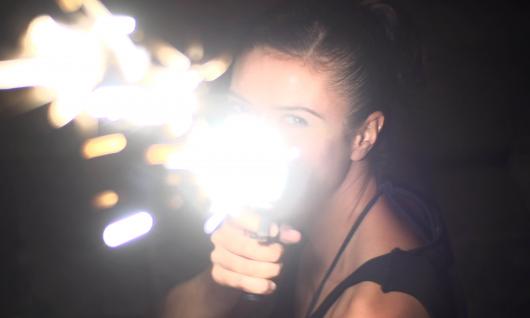 Le profil Amina (2015)
Réal.: Sophie Deraspe
Production : Esperamos & National Film Board of Canada
Festivals : Sundance 2015 | Hot Docs 2015 | VIFF 2015 | CPH:DOX 2015 | DokLeipzig 2015 | RIDM 2015
Prix : HotDocs : Special Jury Prize – Canadian Feature Documentary
"Thanks for adding me. You are absolutely gorgeous XOXO." "Thank you Amina. You are quite hot yourself." There is no indication that this typical online flirtation between two strangers would turn into a case of shocking international intrigue. For months, Sandra in Montreal and Amina, a Syrian-American, bond romantically and intellectually. Encouraged by Sandra, Amina launches a blog called "A Gay Girl in Damascus," representing a marginalized voice in the Middle East on politics, religion, and sexuality. Rapidly garnering worldwide attention, Amina becomes something of a star blogger. But when Syria enters the Arab uprising of 2011, Sandra receives word that Amina has been kidnapped, and soon the search for Amina becomes a global concern and an even larger mystery to solve.
Doc Circuit Montréal : Face-à-face (2013)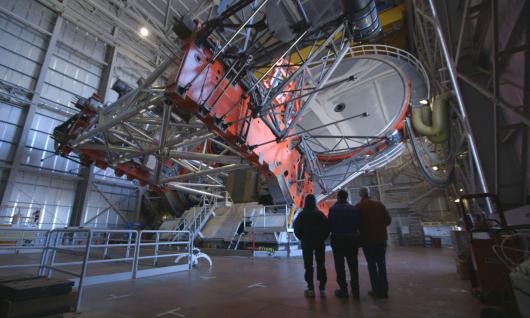 Star Men (2015)
Réal.: Alison Rose
Production : Inigo Films
Festivals : CPH:DOX 2015 | Sheffield Doc/Fest 2015 | RIDM 2015 | Docs Against Gravity Film Festival 2016
Synopsis : For more than 50 years, they've had their heads in the stars. Back in the early 60s, they were young astronomy Ph.D.'s from Great Britain: Roger the instrument-maker, Donald the theoretician, Nick the visionary and Wal the observer, recruited by the United States to help out with the Space Race. They were to spend a year exploring Earth and sky. Today, all four have returned to the U.S. Southwest for a reunion as poignant as it is joyful, yet haunted by the spectre of death. Showing how passion, curiosity and friendship endure through the years, Alison Rose joined a unique journey undertaken by these mysterious men, whose work has uncovered fundamental knowledge about the universe.
Doc Circuit Montréal : Face-à-face (2014)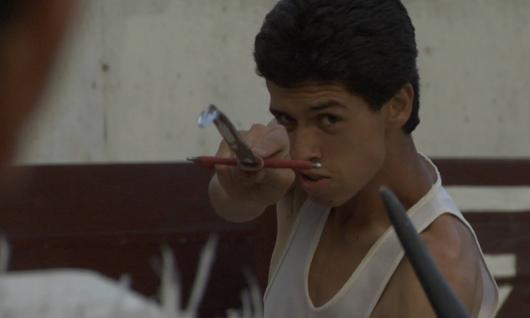 Nuestro Monte Luna (2015)
Réal. : Pablo Alvarez Mesa
Production : Parabola Films
Festivals : RIDM 2015 | Hot Docs 2015 | Sundance Doc Lab 2014
Built on a hillside, the Colombian village of Choachi becomes, in this first feature film by Pablo Alvarez-Mesa (Jelena's Song and Speaking Into the Air), the setting for a coming-of-age story with deep political ramifications. While the mayor of Bogotá has decided to ban bullfighting – considered a barbaric colonialist symbol – young devotees in Choachi keep training every day, preserving the fading traditional sport and dreaming of a glorious future away from the mountains and their painful, impoverished past. Capturing the smallest details, the filmmaker is not content to observe his characters. He accompanies them on a road to adulthood full of hopes and fears, the building blocks of tomorrow's Colombia.
Doc Circuit Montréal : Face-à-face 2013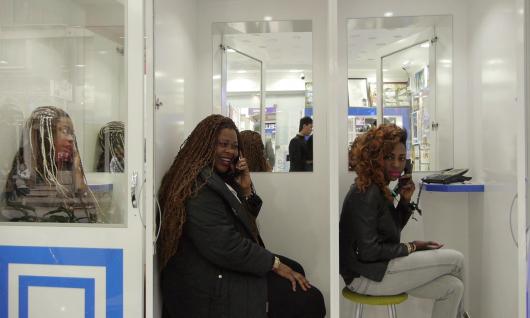 Callshop Istanbul (2015)
Réal.: Hind Benchekroun & Sami Mermer
Production : Teckno Hut & Noah Couture-Glassco
Festivals : RIDM 2015 | Hot Docs 2015


Istanbul, a metropolis at the crossroads of Europe and Asia, has always been a way station for the merchants and travellers of the world. Today, for migrants from Africa and the Middle East, it is a gateway to the promised land of Europe. Syrian and Iraqi refugees, cosmopolitan youth seeking a better future, disillusioned Arab Spring supporters and undocumented migrants from Black Africa all congregate in cramped hives of activity: the city's callshops. Found on every street corner, these businesses provide a vital link to the migrants' home countries. Hind Benchekroun and Sami Mermer capture the conversations, confidences and emotionally charged moments that happen in callshops every day, creating a powerful and dignified testament to the migrant's condition in the 21st century.
Doc Circuit Montréal : Face-à-face (2013)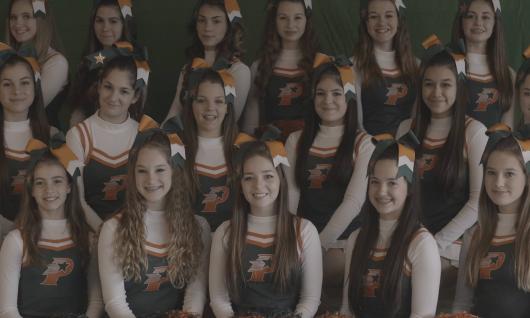 Bienvenue à F.L. (2015)
Réal.: Geneviève Dulude-De Celles
Production : Colonelle Films
Festival : RIDM 2015 | TIFF 2015
Bienvenue à F.L. trace le portrait d'une communauté d'adolescents dans l'univers clos de leur école secondaire de région, à Sorel-Tracy. Des jeunes y prennent la parole pour réfléchir sur leur environnement, leur identité et ce moment particulier qu'est l'adolescence. Ceux-ci apprennent à se définir, en dehors ou à l'intérieur du cadre scolaire, pour mieux affronter les défis de l'âge adulte. Ils exposent leurs visions du monde, uniques et rafraichissantes, avec humour, philosophie et courage.
Doc Circuit Montréal : Face-à-face (2013)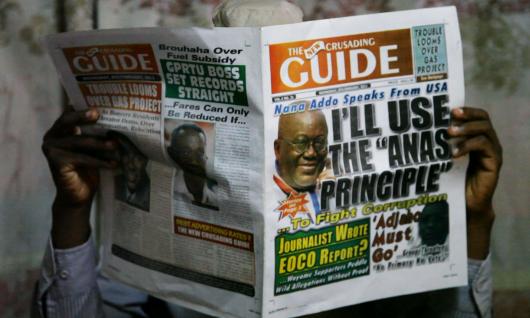 Chameleon (2014)
Réal.: Ryan Mullins
Production : Eyesteel Films
Festivals : IDFA, Hot Docs, Sheffield Doc/Fest
Prix : Emerging Canadian Filmmaker Award (Hot Docs 2015)
Anas has been called the James Bond of Ghanaian journalism. He's exposed a sex-trafficking ring by masquerading as a bartender, uncovered deplorable conditions in Accra's psychiatric hospital, posed as a crown prince in order to bypass a rebel checkpoint. His unorthodox methods are infamous throughout Ghana, but, despite his notoriety, his face is unknown to the public. The film takes us behind the scenes of the Tiger Eye Investigations Bureau hot on the heels of his next big case.
Doc Circuit Montréal : Face-à-face (2013)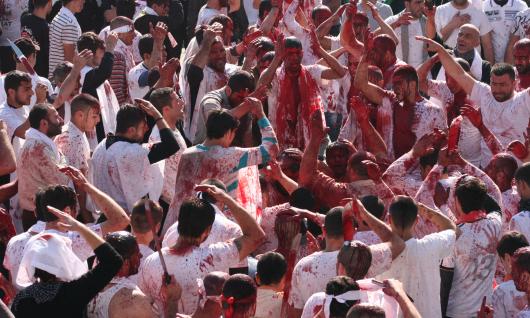 Masse mystique (2014)
Réal.: Karim Haroun
Production : Nemesis Films
Festival : RIDM 2014 | Vision du réel 2014
Every year, thousands of Shia Muslims meet in the village of Nabatiyyeh in Lebanon to commemorate the martyrdom of Imam Hussein, assassinated in 680 A.D. It is by far the most important religious event in the chia cult, and leads to the formation of immense mass movements all around the world.. Mystic Mass describes extensively this 24h ceremony, and deconstructs its indivisible, ever united, mystic mass, since its formation early in the morning of Ashoura, up to its dissolution in the afternoon of the same day.


Doc Circuit Montréal : Face-à-face (2013)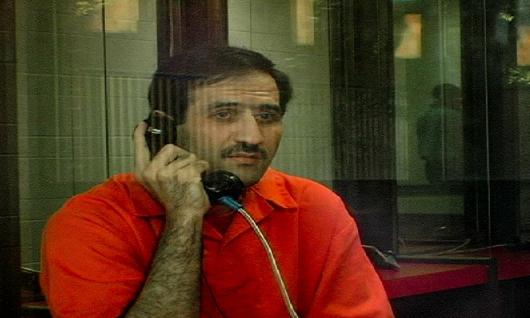 Secret Trial 5 (2014)
Réal.: Amar Wala
Production : Secret Trial 5 Productions
Festivals : RIDM 2014 | Hot Docs 2014
Prix : Emerging Canadian Filmmaker Award (Hot Docs 2014)

Imagine spending years in prison without being charged with a crime or knowing exactly what you're accused of. A film about the human impact of the "War on Terror," The Secret Trial 5 is a sobering examination of the Canadian government's use of security certificates, a Kafkaesque tool that allows for indefinite detention without charges, based on evidence not revealed to the accused or their lawyers. Over the last decade, this rare and highly controversial device has been used to detain five men for nearly 30 years combined. To date, none has been charged with a crime or seen the evidence against them. Through the experience of the detainees and their families, the film raises poignant questions about the balance between security and liberty.

Doc Circuit Montréal : Cubant Hat (2011)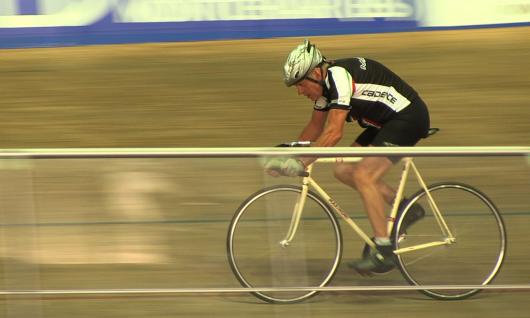 Marinoni (2014)
Réal. : Tony Girardin
Production : Teckno Hut & Noah Couture-Glassco
Festival : RIDM 2014 | Hot Docs 2014
For cycling fans, his name is nothing less than legendary. In 1964, when he was 25, Giuseppe Marinoni left his native Italy for a bike race. Not only did he get countless Canadians interested in the sport, he went on to become one of the most passionate and trusted bicycle builders in the world. Now 75, the man with "a character of iron and the soul of an angel" is as driven as ever, and plans to break the world record for distance cycled in one hour for his age group, a record held by Eddy Merckx. For 60 days leading up to the event, Tony Girardin documented this intriguing, complete man, who shared not only his own story but those of the people important to him.
Doc Circuit Montréal : Face-à-face (2013)