RIDM+ FEBRUARY
Those Who Feel the Fire Burning by Morgan Knibbe
preceded by Hotel 22 by Elizabeth Lo
Thursday, February 25, 8 p.m., Cinéma du Parc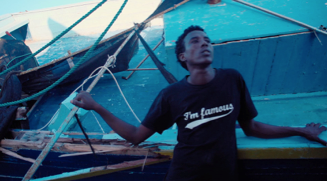 Montreal, Wednesday, February 10, 2016 – From January through August 2016, the Montreal International Documentary Festival (RIDM) presents its year-round programming, including the monthly film series now known as RIDM+. In February, discover Those Who Feel the Fire Burning,directed by Morgan Knibbe and showcased in Quebec premiere on Thursday, February 25 at 8 p.m. at Cinéma du Parc. The documentary feature film will be preceded by the short film Hotel 22 by Elizabeth Lo.
One of the most acclaimed documentaries of 2015, Those Who Feel the Fire Burning takes a novel approach to an exploration of one of the biggest issues of our time: the fate of the countless refugees landing on European shores. Through a subjective aerial camera representing the soul of a man who died at sea, filmmaker Morgan Knibbe follows several people filled with hope but haunted by trauma. An unforgettable visual poem, Those Who Feel the Fire Burning attempts to renew the language of cinema in order to better capture the political and human upheavals of our time.
In the heart of Silicon Valley, bus no. 22 runs 24/7. For many homeless people, it is an essential refuge. Each night, as it loops around its route, its passengers sleep and warm up – as long as they are fortunate enough to have a sympathetic driver. Hotel 22 won the award for best short film at the prestigious Cinema Eye Awards.
The RIDM+ series is presented by Télé-Québec.
THOSE WHO FEEL THE FIRE BURNING
Directed by Morgan Knibbe
Netherlands, Greece, Italy | 2014 | 74 min
In the original Arabic, Bengali, Greek, Italian, Tigrinya, Wolof and Farsi with English subtitles
Trailer:https://www.youtube.com/watch?v=qk0Rlx-waJg
Preceded by HOTEL 22 directed by Elizabeth Lo
United States | 2014 | 8 min
In the original English
Trailer: http://www.elizabeth-lo.com/trailers-1/
Thursday, February 25, 8 p.m., Cinéma du Parc
Purchase tickets online:
https://omniwebtickets.com/cinemaduparc/?schdate=2016-02-2
Since 2012, the Montreal International Documentary Festival's RIDM+ series (formerly Docville), presented on the last Thursday of every month, has given audiences the chance to see Montreal premieres of excellent documentaries that have enjoyed recent success at the world's most prestigious festivals. In many cases, a RIDM+ screening is the only chance to see the film on a big screen in Montreal, and the filmmakers often make themselves available for audience Q&A sessions.
Tickets are available at the Cinéma du Parc box office and online at cinemaduparc.com. Regular price: $12.50, youth (age 14-25) and seniors (65+): $11. Docu/Fiction cards are available for $60 for 6 admissions to any RIDM or Fantasia monthly screening and Cinéma du Parc's regular films. The cards are transferable, but not valid during festivals or certain special events held at Cinéma du Parc. Other conditions may apply.
Quebec's only film festival dedicated to documentaries, the Montreal International Documentary Festivalpresents the best reality‐based films, including the works of established directors and new talents.
The 19th annual RIDM will take place from November 10 to 20, 2016.
Information:www.ridm.qc.ca / info@ridm.qc.ca
-30-
Contact: Caroline Rompré | publicist | 514-778-9294 | caroline@pixellex.ca