RIDM+ APRIL

Of Men and War (Des hommes et de la guerre) by Laurent Bécue-Renard
Thursday, April 28 at Cinéma du Parc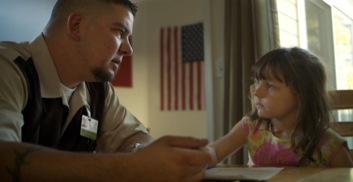 Montreal, Wednesday, April 6, 2016 – From January through August 2016, the Montreal International Documentary Festival (RIDM) presents its year-round programming, including the monthly film series now known as RIDM+. Considered one of the major works of recent years but never before seen in Quebec, Of Men and War (Des hommes et de la guerre) by Laurent Bécue-Renard will be presented by RIDM+ on Thursday, April 28 at 8 p.m. at Cinéma du Parc. There will be a Q&A with the director via Skype after the film.
The RIDM+ series is presented by Télé-Québec.
Filmmaker Laurent Bécue-Renard spent years filming the therapy sessions and daily lives of several American soldiers afflicted with post-traumatic stress disorder. In the finest tradition of long-term observational cinema, Of Men and Waris an intelligent, empathetic examination of the devastating impact of war on men who are often too proud to admit the true extent of their injuries. A heartbreaking and essential work. Of Men and War won the award for best documentary feature at the prestigious IDFA festival in 2014.
OF MEN AND WAR (DES HOMMES ET DE LA GUERRE)directed by Laurent Bécue-Renard
France, Switzerland | 2014 | 142 min | In the original English with French subtitles
Trailer:https://vimeo.com/93922209
Website: http://www.ofmenandwar.com
Thursday, April 28, 8 p.m., Cinéma du Parc
Purchase tickets online: https://omniwebtickets.com/cinemaduparc/?schdate=2016-04-28
Since 2012, the Montreal International Documentary Festival's RIDM+ series (formerly Docville), presented on the last Thursday of every month, has given audiences the chance to see Montreal premieres of excellent documentaries that have enjoyed recent success at the world's most prestigious festivals. In many cases, a RIDM+ screening is the only chance to see the film on a big screen in Montreal, and the filmmakers often make themselves available for audience Q&A sessions.
Quebec's only film festival dedicated to documentaries, the Montreal International Documentary Festivalpresents the best reality‐based films, including the works of established directors and new talents.
The 19th annual RIDM will take place from November 10 to 20, 2016.
Information: www.ridm.qc.ca / info@ridm.qc.ca
-30-
To request interviews, screeners or visual material, please contact:
Caroline Rompré | publicist | 514-778-9294 | caroline@pixellex.ca