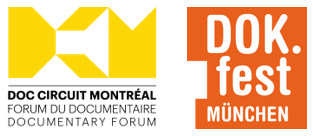 DOC CIRCUIT MONTRÉAL (DCM) and DOK.forum Munich
launch a joint call for projects: QC+BY: DOC CO-PROD
Montreal, Thursday, October 4, 2018 - Doc Circuit Montreal is proud to be joining forces with DOK.forum, the professional market at the DOK.fest Munich festival, for the first time. The two forums are launching a joint call for projects, with the aim of selecting three emerging producers to work on coproductions on both sides of the Atlantic.
The objective of the QC+BY: DOC CO-PROD project is to promote Quebec-Bavaria documentary co-production. The initiative will support and equip a new generation of producers so that they can run coproductions smoothly and form solid working relationships with a new network of collaborators, helping to showcase talent from Quebec and Bavaria on both continents.
Through training, mentorship and networking activities designed to make the most of meetings between Quebec producers in Munich and Bavarian producers in Montreal, participants will benefit from a schedule spanning two years. During that time, they will work on a documentary project in development with a strong international coproduction component.
DCM 2018 will welcome the three Bavarian producers who will launch the initiative along with three counterparts from Quebec. Each phase will include workshops, master classes on international coproduction and individual sessions. At the end of the program there will be a pitch session to help the projects secure funding.
This activity is made possible by an investment from the Ministère de la Culture et des communications as part of the Coopération Québec-Bavière initiative, as well as from the State of Bavaria Quebec Office.
ELIGIBILITY CRITERIA FOR QC+BY : DOC CO-PROD 2018
Emerging producers (minimum 3 years of experience) with projects in development are invited to apply until October 26, 2018. All documentary projects are welcome, including short films, series, features, interactive projects and experimental works.
For more information, visit the call for projects page on our website.
About DOK.forum Munich
DOK.fest Munich is one of Europe's largest festivals for feature documentary films. With its DOK.forum Marketplace it has developed a unique co-production platform for the German-speaking industry – including regular events for international professionals. Through targeted matchmaking, the DOK.forum Marketplace provides concrete offers for the realisation of new documentary film projects. DOK.forum Marketplace will take place from May 8-16, 2019.
About Doc Circuit Montréal
Each year, Doc Circuit Montreal organizes an intensive program of business meetings, talks, pitches and professional development workshops. The 14th edition of Doc Circuit Montreal will take place from November 10 to 14, 2018.
– 30 –
For further information, please contact:
Caroline Rompré | pixelleX communications | 514-778-9294 | caroline@pixellex.ca